Boo.
RETRORATING: 9
OFFICIAL
RETRORATING: 9

Don't mess
with the bull.
JOIN!!!
Boba Fett - My Favorite Action Figure
I have been a
Star Wars
fan since those big letters started scrolling up the screen when my parents took me and my brother to see the first film in the theater as children. It was only natural that the Kenner
Star Wars action figures
would go on to become our favorite toys for at least several years.
Imagine (or remember) a time before even the VCR, and certainly well before the DVD or DVR, when you couldn't just watch a movie or show whenever you wanted and as often as you wanted.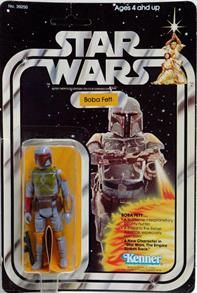 A kid who was obsessed with Star Wars took whatever exposure to the film he could get whether that was books, magazines, records, trading cards and, best of all, action figures. We used our imagination and those little action figures to recreate scenes or play out new ones. I am so glad that George Lucas made that brilliant decision to sell action figures as part of his merchandising strategy (and I bet he is, too) because they provided hours and hours of enjoyment during my childhood.
Of all of my prized Star Wars action figures, I think my favorite has to be Boba Fett. The Boba Fett action figure was first made available only through a mail-away offer in 1979. The offer was presented before we would even see him in The Empire Strikes Back for the first time, though the character was technically first introduced in the infamous 1978 Star Wars Christmas Special. Many don't remember that the bounty hunter actually made an appearance in a cartoon segment where he pretends to befriend Han, Chewie, Luke and Leia while secretly plotting with Darth Vader to trap the Rebel Alliance. [He would later be inserted into a scene in the Special Edition version of A New Hope, but that doesn't count since it was released in 1997.] Based on the Christmas Special cartoon and his upcoming larger role in 1980's The Empire Strikes Back, Kenner made Boba Fett available by mail if you sent in four proof-of-purchase seals from other Star Wars action figures. Here is a TV commercial promoting this special mail-away offer...

The Boba Fett action figure was originally intended and advertised to have a spring-launched rocket-firing back pack, but it was removed for safety reasons prior to shipping any of them out to customers.
He still had his back pack, but the rocket was firmly attached to it and did not launch preventing it from shooting into someone's eye or being swallowed by a small child. It is reported that some prototypes with the rocket-firing back pack have made it out into the market and have become quite valuable and highly sought-after due to rarity. I was more than happy with my Boba Fett just the way I received him back then.
My brother and I both sent in our proof-of-purchase seals and eagerly anticipated the arrival of our action figures. Boba Fett was extra special because you could not buy him in stores; you could only get him though this special mail-in offer. I think that is partly why Boba Fett always remained one of my favorites. We couldn't wait to see what role the bounty hunter would play in The Empire Strikes Back since we received the action figure about a year before the film was released. He didn't let us down. Boba Fett was pretty badass in the movies (until he later screamed like a girl, slammed into the side of Jabba's barge and was swallowed by the sarlacc). Another plus is that, since he wore a mask, his action figure looked more exactly like the character on screen in the movie. This is an advantage that the action figures for Darth Vader and the droids had over those with human faces like Luke, Han and Leia. I still have my original well-played-with Boba Fett action figure over 30 years later (see picture). He sits on my desk next to my computer and is another reminder of how much I still love Star Wars and the 80s.
Find this new issue and many, many more at our regular blog, Kickin' it Old School. Please stop by there often to hopefully enjoy a walk down 80s memory lane. I also would appreciate if you stop by our Facebook page and like us (http://www.Facebook.com/KickinItOldSchool80s ) and be sure to follow us on Twitter as well (http://www.Twitter.com/OldSchool80s )
Check this out: I thought this was particularly appropriate based on the subject of this issue. Who knew that Boba had these kinds of moves? (Though admittedly he's not quite as badass as usual.) Two 80s pop culture forces collide when everybody's favorite bounty hunter and Flashdance come together in an unexpected way...

Mandalorian Dance by PatrickBoivin