What the
heck is a
yuletide?
RETRORATING: 12
OFFICIAL
CONTEST WINNER!

Don't mess
with the bull.
JOIN!!!
The Pizza Head Show



If you're old enough to remember, or if you're a die-hard SNL fan, these commercials were created by the same guy that did the Mr. Bill show, Walter Williams, from the early days of Saturday Night Live. If you remember those as well, they followed a similar formula. Some genius marketing director obviously loved the theme enough, that he decided to get two of his favorite things, laughter and food, together and make hilarious short commercials based around one of America's favorite foods: Pizza.


I use to enjoy these commercials growing up as a kid, watching Teenage Mutant Ninja Turtles, and having these commercials play sometimes, helped to form a recipe for my love of Pizza.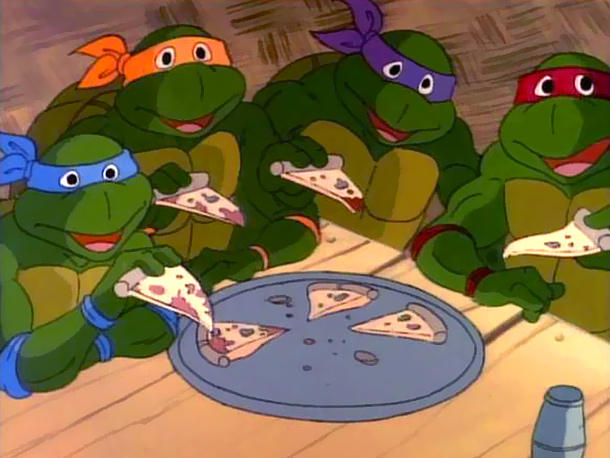 I like how Pizza Cutter Steve always has a disguise that Pizza Head would instantly see through, and the narrator would brush it off. It is sad how commercials today don't have as much variety. There are more than a dozen commercials, all featuring Pizza Head and Pizza Cutter Steve in a large variety of situations. The formula for the commercials are pretty simple. Pizza Head introduces a Pizza Hut product, then the narrator introduces Pizza Cutter Steve as a character, such as a coach, scarecrow, super hero, alien, and more. Then Pizza Head goes, "Wait, he isn't (insert current character here)!" Then the narrator, almost every time, goes "Sure he is!". Then, hilarity ensues, Pizza Head is abused, kicked around, smashed, thrown into the fake Pizza Hut building, etc. and at the end of the commercials, the mini set-piece is destroyed somehow.

Sadly, like all good things, it came to an end. Around the late 90's, pizza hut started doing different commercials, and Pizza Head got less and less airtime, until the only way he lived on, was in our hearts.

UNTIL, YouTube came along, and now you can find them online. I honestly think that it is time for Pizza Hut to bring Pizza Head and Pizza Cutter Steve back. Instead, they're trying to fancify their pizza, and go after adults. They need to get their target audience back: The kids!!! So that way those kids, like you and I, can grow up recalling their favorite Pizza Hut commercials. No kid is going to grow up singing the "cheesy bite" commercial song. The BEST advertising is word of mouth. Someone who is a fan of you as a kid will be a fan of you as an adult. If you don't make a fan as a kid, the kid will go elsewhere later in life, get smart Pizza Hut, get your target audience back, so you have business for years to come. Your delicious pizza won't be the only thing keeping people coming back.

Now, the Pizza Head commercials were obviously geared towards kids, but watching them as an adult, I get still get enjoyment out of them. Probably because the type of humor is great for all ages, but also, like everyone here, I'm still a kid at heart, and these commercials helped instill a love of pizza in me, so almost anything pizza related, I love.

Hope you enjoy this trip to the past. Now, go get a pizza, tell them Pizza Head is the reason why you're ordering tonight, and enjoy!