I am
The Great
Pumpkin.
OFFICIAL
RETRORATING: 12

Don't mess
with the bull.
JOIN!!!
Top Songs from the 80s about MONEY
April 15
th
is an important date on the calendar. It is, of course, the deadline for filing your Taxes for the previous year. Hopefully all of you have long since filed your taxes and even received a refund already.

Tax Day always gets me thinking about
money
and I felt this a fitting time to reveal a list I have been holding on to for some time now.
The 80s are often referred to as a decade of yuppie greed and materialistic excess. There happen to be quite a few songs from the 80s about money or with the word money in the title, so I decided to rank the ones I remember best. I have included a link to watch a video for each song if you are not familiar with any of them or just need a reminder. Here is OLD SCHOOL'S TOP 10 SONGS ABOUT MONEY FROM THE 80s (+ Bonus 5):
Honorable Mention. There is a song

I really wanted to include on the list because I remember it from the 80s, but it was officially released in 1979. It is the cover of Barrett Strong's 1959 song "Money" done by The Flying Lizards. This would have ranked in my top 5, but since not technically an 80s song I wanted to at least give it honorable mention. Here is a link to watch the video.
15. "I Wanna Be Rich" (1989) by Calloway [link to video]

14. "Money Changes Everything" (1983) by Cyndi Lauper [link to video of live performance]
13. "How To Be a Millionaire" (1985) by ABC [link to video]
12. "9 to 5" (1980) by Dolly Parton [link to video of live performance] - Was written and originally performed in the 1980 film Nine to Five. The song reached number one on both the Billboard Country Chart and the Billboard Hot 100 in January and February of 1981, respectively.

11. "Mercedes Boy" (1988) by Pebbles [link to video] - Actually reached #2 on the Billboard Hot 100 chart and #1 on the Hot R&B/Hip Hop chart in May 1988 where it was replaced by #7 on this list.
10. "Puttin' On the Ritz" (1983) by Taco [link to video] - Cover of the Irving Berlin song originally from the 1930 musical of the same name. Also covered other times including by Gene Wilder and Peter Boyle in Mel Brooks' 1974 film Young Frankenstein. Taco's version would reach #4 on the Billboard Hot 100 and ranks #54 on VH1's list of Greatest One Hit Wonders of the 80s. I had the pleasure of an interview with Taco a few years ago as well.
9. "Money's Too Tight (To Mention)" (1985) by Simply Red [link to video]
8. "What People Do For Money" (1984) by Divine Sounds [link to video] - Ranks on my Top Hip Hop/Rap Songs of the 80s list

7. "Just Got Paid" (1988) by Johnny Kemp [link to video]
6. "Working for the Weekend" (1981) by Loverboy [link to video] - Actually ranks #100 on VH1's 100 Greatest Songs of the 80s list.
5. "She Works Hard for the Money" (1983) by Donna Summer [link to video] - This song would hit #3 on the Billboard Hot 100 as well as become the first music video by a black female artist to be heavily promoted on MTV. Summer would receive a Grammy nomination for Best Female Pop Vocal Performance for it.
4. "Uptown Girl" (1983) by Billy Joel [link to video] - The title character in the music video was played by Christie Brinkley who Joel would marry in 1985. They would divorce in 1994 and subsequently, the song was missing from the setlist during Joel's 1994 "River of Dreams" tour.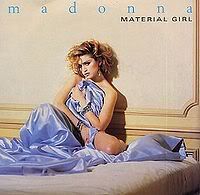 3. "Material Girl" (1985) by Madonna [link to video] - Ranks very highly on my Top Madonna Songs of the 80s list. It reached #2 on the Billboard Hot 100 chart and Madonna would be nick-named the Material Girl despite her objections. The music video was inspired by her admiration of Marilyn Monroe and mimicked her performance of the song "Diamonds Are a Girl's Best Friend" from the 1953 film Gentlemen Prefer Blondes.
2. "Opportunities (Let's Make Lots of Money)" (1984) by Pet Shop Boys [link to video] - Here's a link to my special issue on the Pet Shop Boys.
1. "Money For Nothing" (1985) by Dire Straits [link to video] - The song would hit #1 on the Billboard Hot 100 and stay there for three weeks. It includes a guest-appearance by Sting singing song's falsetto introduction and backing chorus of "I want my MTV." I will always remember that intro. It ranks on my popular Top Music Videos of the 80s list.
There's my list. Are there any 80s songs about money that you feel I have overlooked? If so, please leave them in the comments section below. You also have singer Eddie Money who has the word right in his name. I did a Flashback Video issue on Eddie Money which includes three of my favorite 80s songs of his. "Can't Buy Me Love" was a Beatles song from the 60s, but it was also an 80s movie, too. It relates to the topic of money and here's a link to my Preview Review issue on Can't Buy Me Love.
The 80s were definitely a decade of materialism and this was reflected in some of the music. Hope you enjoyed this reminder that money makes the world go round.
I appreciate you reading and hope you visit my regular blog Kickin' it Old School for more awesome 80s fun including many exclusive interviews. I would also appreciate it if you like us on Facebook at http://www.Facebook.com/KickinItOldSchool80s and follow us on Twitter at http://www.Twitter.com/OldSchool80s/ Peace and much love!