Be my
ghoul
friend.
RETRORATING: 14
OFFICIAL
RETRORATING: 13

Don't mess
with the bull.
JOIN!!!
Top Songs from the 80s with a Color in the Title
Top 10 lists used to be a regular feature on
Kickin' it Old School
.
Interviews
have sort of dominated my content there lately and hopefully you have been enjoying those as much as I have. I still have many Top 10 lists just waiting to be published and, with everybody wearing green for St. Patrick's Day, the neon colors I'm seeing come back as part of Spring fashions as well as all of the school colors as we enter the March Madness of the NCAA College Basketball Tournament, I was reminded of a
colorful list
that is suitable to share this month.
Colors make for good inspiration and/or adjectives for songwriters and the 80s had its share of songs with a color noted in the title. There are so many that I am including an extra fifteen songs. One that is not eligible because it does not list a specific color, but that is worth mentioning is Cyndi Lauper's "True Colors" (which you can find out more about in my interview with the song's co-writer Billy Steinberg). Many hues are represented on the vibrant list below. So here is OLD SCHOOL'S TOP 10 SONGS WITH A COLOR IN THE TITLE FROM THE 80s (+ Bonus 15):
25. "Blue Jean" by David Bowie (1984)
24. "Blue Eyes" by Elton John (1982)
23. "Gold" by Spandau Ballet (1983)
22. "Red Rain" by Peter Gabriel (1986)
21. "Crimson and Clover" by Joan Jett & the Blackhearts (1982) - This rendition of the 1968 hit by Tommy James and the Shondells reached #7 on the Billboard Hot 100.
20. "Black Cat" by Janet Jackson (1989)
19. "Pretty in Pink" by The Psychedelic Furs (1981) - Was originally released as a single from the band's second album, Talk Talk Talk. The song inspired the 1986 film of the same name and a re-recorded version of the song was included on the film's soundtrack that year.
18. "Black Velvet" by Allanah Myles (1989) - Was released in December of 1989, so it just makes the cut.
17. "Blue Monday" by New Order (1983)
16. "Black Steel in the Hour of Chaos" by Public Enemy (1989) - Features the high-pitched piano sample from the Isaac Hayes 1969 song "Hyperbolicsyllabicsesque dalymystic" and tells the story of a prison escape.
15. "The Lady in Red" by Chris DeBurgh (1986)
14. "Out of the Blue" by Debbie Gibson (1987) - Check out my interview with Debbie Gibson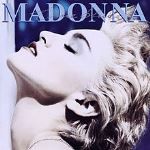 13. "True Blue" by Madonna (1986) - I will always remember this song from being stuck at home the night that MTV ran every entry in the "Make My Video" contest continuously all night long. I don't know why I didn't change the channel, but this song is still engrained in my brain from listening to it over and over for several hours (and that's not a good thing).
12. "99 Red Balloons" by Nena (1983) - This is the English version of the German hit which is not a direct translation. Check out my special Flashback Video issue on both versions including a translation chart comparing them both.
11. "Pink Cadillac" by Bruce Springsteen (1984) - Natalie Cole had a Top 10 hit with her 1988 cover as well.
10. "Stay Gold" by Stevie Wonder (1983) - I absolutely love the lyrics to this, the main theme song for the film The Outsiders. Also certainly worth an Honorable Mention is "Ebony and Ivory" by Stevie Wonder & Paul McCartney (1982) which is a song about the colors of piano keys as well as racial harmony that spent 7 weeks at the top of the Billboard Hot 100.
9. "Red Red Wine" by UB40 (1983) - A cover of the Neil Diamond song originally released in 1968 which ranks on my best Cover Songs of the 80s list.
8. "White Wedding" by Billy Idol (1982)
7. "Electric Blue" by Icehouse (1987) - This song was co-written by the band's Ira Davies and John Oates who stated that if Davies had not released the song under the Icehouse name then it would have been a Hall & Oates track.
6. "Touch of Grey" by Grateful Dead (1987) -
This was the band's only commercial hit reaching #9 on the Billboard Hot 100. This was also their first music video which I remember well because it featured some life-size skeleton marionettes and received quite a bit of airplay on MTV. I also enjoy the "I will get by" sentiment of the refrain.

5. "White Lines (Don't Do It)" by Grandmaster Melle Mel (1983) -
The anti-drug song warns of the dangers of cocaine and features an awesome bassline which is sampled from a performance of the Sugar Hill house band covering "Cavern", a single by the band Liquid Liquid. An unofficial music video was directed by then New York University film student Spike Lee and starred actor Laurence Fishburne.

4. "Back in Black" by AC/DC (1980) -
Featuring its iconic opening guitar riff the song ranked #2 on VH1's greatest hard rock songs of all time (in 2009) and #187 on Rolling Stone's 500 Greatest Songs of All Time. This was from the first album with Brian Johnson on lead vocals and the song is said to be a tribute to late former singer Bon Scott.

3. "Midnight Blue" by Lou Gramm (1987) -
This was the first single released from the Foreigner front-man's solo debut album.

2. "Pink Houses" by John Cougar Mellencamp (1983) -
This came from his first album which he started to use his real last name. It was ranked #439 on Rolling Stone's list of The 500 Greatest Songs of All Time.

1.(tie) "Little Red Corvette" (1983), "Purple Rain" (1984) and "Raspberry Beret" (1985) by Prince -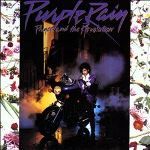 The purple one also used a couple other colors to top this list. Each song is outstanding in its own right, but collectively it undoubtedly does not get better than this trio of colorful tunes.

Prince - Purple Rain (HQ+) Copyright By A&M... by STARDUST72

Prince And The Revolution - Raspberry by vinylboy

There's my list. I included music videos for the top 6 (even the Prince songs which is not always so easy), but you can easily find the others if you are not familiar with them or just have the urge to listen to them now. As usual, these are based on my personal preferences and the order could very well change a little depending on my mood or nostalgia on a given day. Are there any 80s songs with a color in the title that you feel I have overlooked? If so or if you'd rank any differently, please leave them in the comments section below. As far as the colors represented on the list, blue appeared most often (7 times), followed by red (5 times) and black (4 times). Green surprisingly doesn't show up at all, so like Kermit sings, "It ain't easy being green." Songs with colors in the title are certainly not unique to the 80s, but as you can see, the decade not surprisingly sure had its share of respectable ones.
Please visit our regular blog, Kickin' it Old School, which is updated weekly. I would also appreciate if you stop by and LIKE our Facebook page as well, www.Facebook.com/KickinItOldSchool80s and you can follow us on Twitter @OldSchool80s www.Twitter.com/OldSchool80s Thanks for helping to keep the 80s alive and relevant. Peace and much love.