You will
never be
forgotten.
RETRORATING: 11
RETRORATING: 19
RETRORATING: 12

Don't mess
with the bull.
JOIN!!!
McDonald's 80's New Menu Items
I have done several issues on 80s commercials already including Nike "Revolution", Seagram Wine Coolers with Bruce Willis, Pepsi with Michael Jackson, Folgers Coffee at Christmas, Cadbury Creme Eggs at Easter, kids Cereal, Hershey Kisses and more. Interviews have sort of dominated my content lately and hopefully you have been enjoying those as much as I have. This year marks 30 years since McDonalds introduced one of its most popular menu items.
I wanted to revisit the launch of this item along with a couple other notable McDonalds introductions during the 80s. McDonalds had many memorable commercials during the 80s, but we will cover these new 80s debuts and the commercials that helped sell them.

Back in 1983,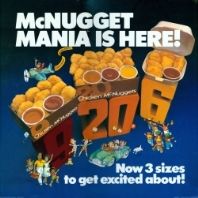 Chicken McNuggets were added to all McDonalds menus nationwide. Previous to this, I was strictly a hamburger eater at McDonalds but I quickly became swept up in McNugget Mania. Chicken McNuggets were actually created in 1979, but supply problems weren't fully resolved until 1983. Originally, they were served with your choice of Barbecue, Sweet n' Sour, Honey or Hot Mustard dipping sauces. They quickly became, and remain to this day, one of the most popular offerings on the McDonalds menu.
Here is one of the first commercials introducing Chicken McNuggets...
I know some are concerned about what the McNugget is made of, but I would rather not know and just continue to enjoy these tasty treats. Beginning in 2003, McNuggets are now made with only white meat. In 2011, four new dipping sauces were added to the lineup: Sweet Chili, Honey Mustard, Spicy Buffalo and Creamy Ranch (though my young daughter still prefers plain old ketchup). I am sure most children today can't imagine McDonalds without Chicken McNuggets, but before the 80s that was the case.
A couple years earlier, McDonalds introduced the McRib sandwich in 1981. Similar to McNuggets, it was developed by McDonalds' first executive chef, Rene Arend. Since McNuggets were originally in short supply, they had to come up with another new product to offer the franchises. The McRib is a boneless pork (molded to look like a rack of ribs) sandwich with barbecue sauce, pickles and onions.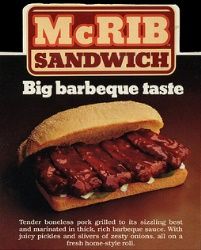 Here is an early commercial for the McRib sandwich...
In 1985, it was removed from the menu due to poor sales and rising pork costs. More recently the McRib has developed a cult following and is released annually in the U.S. as a limited time promotion. There is actually a McRib Locator website which can tell you which McDonalds locations are serving the McRib at any given point in time. You have to believe that the fascination is more to do with novelty than with taste. Either way, it is a piece of pop culture history from the 80s.

Back in the day, many McDonalds sandwiches were made ahead of time and kept under a heat lamp until ordered.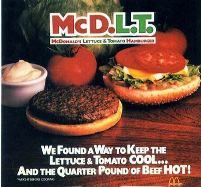 That process makes it difficult to include cool, crisp lettuce and tomatoes on a burger because they will wilt under the heat lamp. This also made it difficult for McDonalds to compete directly with Burger King's Whopper. So McDonalds came up with an idea to keep "the hot side hot and the cool side cool" with the McDLT.

The McDLT was introduced in the Fall of 1984 and featured special styrofoam container which kept the top of the bun with lettuce, tomato and cheese on one side separate from the bottom bun with meat on the other. Then the customer would combine the hot and cool sides together prior to eating. I remember several commercials for the McDLT, but here is the best one starring Jason Alexander several years before he would become known as "George Costanza" on Seinfeld...
How awesome is that commercial? That special Styrofoam (polystyrene) container became the McDLT's undoing.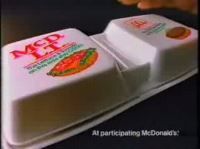 As the country was becoming more environmentally and ecologically conscious in the late-80s, McDonalds felt pressure to discontinue the product. The container was a big part of the McDLT experience, so to appear more environmentally friendly, McDonalds ultimately discontinued the McDLT in late 1990. For some reason, this sandwich and advertising campaign made quite an impression on me, though I never remember really ordering or eating one myself. It's probably another one of those things that only us 80s kids remember well.

McDonalds already was (and probably will always be) the most popular fast food restaurant chain in the United States, if not the world. But these three menu items certainly helped to keep them there during my favorite decade. And yep, it is another little bit of pop culture history that happened during the 80s. [That reminds me that I also would like to reminisce about the old McDonaldland playgrounds, but that is an issue for another day.]
Please be sure to check out our regular blog at KICKIN' IT OLD SCHOOL (http://OldSchool.tblog.com) and like us on Facebook at http://www.Facebook.com/KickinItOldSchool80s