well guys i chanced upon picking up the last issue of NP and it had quite a lot of feedback from fans as well as some old members of the magazine giving out their memories of the magazine.
one section that took my attention was the "top 285 favorite nintendo power games of all time" list that had quite a selection of title released on nintendo consoles from past and present. one game that they listed was conker's bad fur day, which left me with quite a surprise.
another section, which was also the last couple of pages, was a nester comic involving nester (now a young adult) and his son maxwell, as they put up the last issue of nintendo power in their bookcase archived of all of the previous issues, with maxwell calling it "100% completion". but as they're both about to head out of a room archived with nintendo power posters and the bookcase to go and play a game of new super mario bros. U, nester looks back into the room and cuts off the lights as the comic concludes. it was rather depressing, but it served a purpose to end the magazine.
as one last curtain call, they added in a poster with the issue that features the cover of every nintendo power issue, beginning to end. also, the cover for the final issue is a bit of a recreation of the first issue cover, as a remembrance to the magazine's legacy.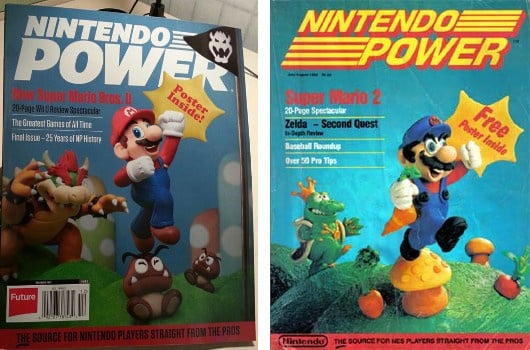 even though i didn't have every issue of this fine magazine, it's understandable that it had to go, since it was mostly for information and that we now have the internet to know about anything video game related, and since most magazines began to get a little rusty around the mid 2000s, but i did get my share of fun out of these just by the pictures and reviews alone, as well as hearing about the stuff going on at the E3 expo.
let this mark the end of an old friend, and an end of an era. good day, folks