They call me
"The Rubber Duck".
CONTEST WINNER!
CONTEST WINNER!
RETRORATING: 11

Don't mess
with the bull.
JOIN!!!
Top Sidekick Characters from 80s Movies
The leading man often gets all of the accolades and attention, but he often owes a lot to his loyal sidekick. Who is Don Quixote without Sancho Panza? Who is Batman without Robin? Who is Fred Flintstone without Barney Rubble? Who is Frodo Baggins without Samwise Gamgee? Who is Wayne without Garth? Who is Jay without Silent Bob? Who is Napoleon without Pedro? Of course 80s cinema did have its share of memorable sidekicks as well. This is not to be mistaken with partners which were also prominent in the decade. This means that the list cannot include pairs like Riggs & Murtaugh, Jake & Elwood, Lewis & Gilbert, Gary & Wyatt, Turbo & Ozone, Bill & Ted or any duo like that. For my purposes, a sidekick is a secondary character whose prominent purpose is to support a main character. I found that the sidekick seems to almost exclusively be a guy thing at least in the 80s with very few if any female sidekicks of note. So without further ado, here is OLD SCHOOL'S TOP 10 SIDEKICK CHARACTERS FROM 80s MOVIES (+ Bonus 10):
Honorable Mention. A dog can be man's best friend and in some cases can make a good sidekick as well. This is the case in 1989's Turner & Hooch where "Hooch" plays sidekick to Tom Hanks' character "Scott Turner". The dog not surprisingly steals many of the scenes and thus deserves at least honorable mention.
20. "Stoner Buds" in Fast Times at Ridgmont High (1982) - Sidekick
to "Jeff Spicoli" (played by Sean Penn) Yep, none other than Eric Stoltz and Anthony Edwards make their film debuts and are each actually credited as Stoner Bud. "No shoes, no shirt, no dice!"
19.(tie) "Lance" in The Sure Thing (1985) - Anthony Edwards plays the sidekick to "Gib" (played by John Cusack). "George Calamari" in One Crazy Summer (1986) - Joel Murray, Bill's younger brother, plays the sidekick to "Hoops McCann" (played by John Cusack). I couldn't decide between these two Cusack films, so I decided to include them both.
18. "Ben Jahrvi" in Short Circuit (1986) - Fisher Stevens plays the sidekick to "Newton Crosby" (played by Steve Guttenberg) in a very racially stereotypical performance.
17. "Subotai" in Conan the Barbarian (1982) - Gerry Lopez, a pro surfer, plays the sidekick to "Conan" (played by Arnold Schwarzenegger) after they become friends following Conan saving his life.
16. "Fred" in Valley Girl (1983) - Cameron Dye plays the sidekick to "Randy" (played by Nicolas Cage) and has his back as they crash a Valley party.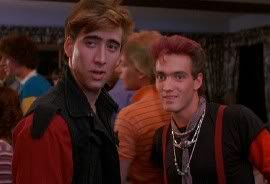 15. "Jerome" in Purple Rain (1984) - Jerome Benton plays the sidekick to Morris Day which is not much of stretch because they were more or less playing themselves. I love their Abbott & Costello-like scene trying to figure out "what's the password".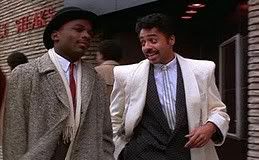 14. "Semmi" in Coming to America (1988) - Arsenio Hall plays the sidekick to "Prince Akeem" (played by Eddie Murphy) on his trip from the fictitious African country of Zamunda to Queens, New York to help find his queen-to-be.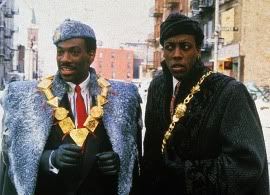 13. "Billy Kopecki" in Big (1988) - Jared Rushton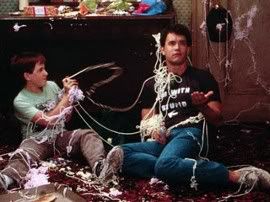 plays the young sidekick to "Josh Baskin" (played by Tom Hanks & David Moscow) whether it is playing stickball or having a silly string fight. "The space goes down, down baby, down, down the roller coaster. Sweet, sweet baby, sweet, sweet, don't let me go. Shimmy, shimmy, coco pop. Shimmy, shimmy, rock. Shimmy, shimmy, coco pop. Shimmy, shimmy, rock. I met a girlfriend named Triscuit. She said, a triscuit's a biscuit. Ice cream, soda pop, vanilla on the top. Ooh, shalida, walking down the street, ten times a week. I meant it. I said it. I stole my momma's credit. I'm cool. I'm hot. Sock me in the stomach three more times."
12. "Barf" in Spaceballs (1987) - The late, great John Candy plays the sidekick to "Capt. Lonestar" (played by Bill Pullman) in this Mel Brooks parody of Star Wars.
11. "Bryce & Wease" in Sixteen Candles (1984) - John Cusack and Darren Harris play the geeky sidekicks to "Farmer Ted" (played by Anthony Michael Hall) on his quest to pick up chicks in this John Hughes comedy.
10. "Grover Dill" in A Christmas Story (1983) - Yano Anaya plays the toady sidekick to bully "Scut Farkus" (played by Zack Ward) in this holiday classic. Bonus points if you knew that Anaya also played the paperboy obsessing over his two dollars in 1985's Better Off Dead. Also qualifying from A Christmas Story could be Ralphie's friends "Flick" and "Schwartz", but decided to go with the toady.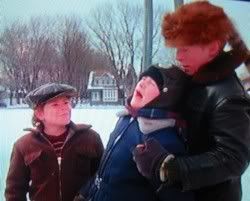 9. "Spike Nolan" in Brewster's Millions (1985) - John Candy makes his second appearance on this list playing the sidekick to "Montgomery Brewster" (played by Richard Pryor) whether it is as his catcher on the Hackensack Bulls or his friend looking out for his best concerns.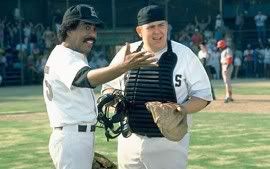 8. "Victor Prinzim" in Cannonball Run (1981) - Dom DeLuise plays the mechanic sidekick to "J.J. McClure" (played by Burt Reynolds) as they race across the country in a souped-up ambulance.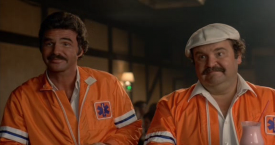 7. "Charles De Mar" in Better Off Dead (1985) - Curtis Armstrong plays sidekick to "Lane Meyer" (played by John Cusack) helping him with his girl troubles and his decision to take on the K-12 ski slope. Could have also included Curtis Armstrong as "Ack Ack" in One Crazy Summer with Cusack as well.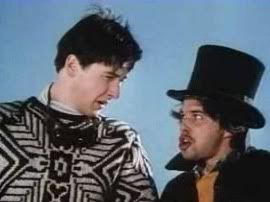 6. "Stiles" in Teen Wolf (1985) - Jerry Levine plays sidekick to wolfman "Scott Howard" (played by Michael J. Fox) surprisingly barely flinching when he finds out his friend is part wolf. In fact, he comes up with ways to capitalize on the situation. Did you know that NFL player Greg White legally changed his first name to Stylez in 2008 inspired by the Teen Wolf character?
5. "Short Round" in Indiana Jones and the Temple of Doom (1984) -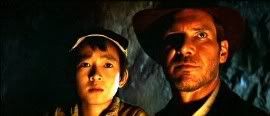 Jonathan Ke Quan plays sidekick to "Indiana Jones" (of course played by Harrison Ford) even saving his life at one point and adding some comic relief along the way. Quan would then go on to play "Data" in The Goonies the following year. "You call him Dr. Jones!"
4. "Russell Ziskey" in Stripes (1981) -
Harold Ramis plays sidekick to "John Winger" (played by Bill Murray) as they both join the Army on a whim. This was a difficult choice because Ramis' character is a little more important than your average sidekick, but I decided to include him anyways. His opening scene teaching Basic English always especially cracks me up, but this scene is probably more memorable to most.
3. "Cameron Frye" in Ferris Bueller's Day Off (1986) -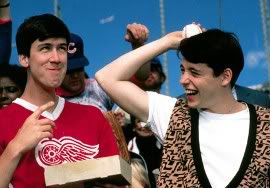 Alan Ruck plays sidekick to the title character (played by Matthew Broderick) on their adventurous day playing hooky from school. Ruck's character is much more pivotal than the average sidekick, but that's what puts him so high on my list. "Hey, batter, batter, batter, batter, batter, SWING, batter!"
2. "Goose" in Top Gun (1986) -
Anthony Edwards plays RIO (radar intercept officer) and sidekick to "Maverick" (played by Tom Cruise) whether they're in the sky fighting MiGs, at Miramar vying to win the 1st place trophy, in a bar singing "You Lost That Lovin' Feeling" or playing an intense game of beach volleyball. Bonus points if you knew that the character's real name is "Nick Bradshaw". Most people remember them saying "I feel the need... the need for speed!" But I always liked when his wife (played by Meg Ryan) screams across the bar, "Goose, you big stud, take me to bed or lose me forever!"
1. "Chewbacca" in The Empire Strikes Back (1980) & Return of the Jedi (1983) -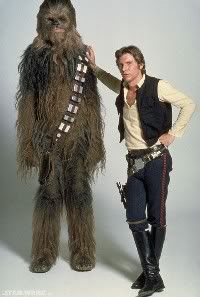 Standing 7'3" tall, Peter Mayhew plays the iconic wookiee sidekick to "Han Solo" (played by Harrison Ford) as he co-pilots the Millennium Falcon on all of their space adventures. Both C3PO and R2-D2 could also technically qualify for this spot as they also meet the definition and have become icons themselves. Is there not a better bromance than "Chewie" and "Han"? In my opinion, there was not a better sidekick in cinema during the 80s or during any decade for that matter.
There's my list. Are there any sidekicks from 80s movies that you feel I have overlooked? If so or if you'd rank any differently, please leave them in the comments section below. I debated with myself over whether to include Pretty in Pink's "Duckie", but decided he was much more than a sidekick and left him off. I also considered including "Johnny" from The Outsiders as a sidekick to "Ponyboy", but again decided not to classify that character as merely a sidekick. What are your thoughts? Anthony Edwards is king of the sidekicks, impressively appearing on the list for three such roles. John Cusack, on the other hand, appears on the list three times for having a sidekick while throwing in one role being one himself for good measure. It is often said that behind every good man is a great woman, but in the case of these guys it is better said that behind every good man is a great sidekick.
You can read more at my regular blog Kickin' it Old School (http://OldSchool.tblog.com) including many exclusive interviews and more Top 10 lists. Please also like us on our Facebook page (http://www.Facebook.com/KickinItOldSchool/) and follow us on Twitter (http://www.Twitter.com/OldSchool80s/) . Thanks for reading!